Not sure why, but it seems as if we had a busy summer and fall this year - making the idea of going away to somewhere a bit out of touch with the world very attractive. And when the snow came a bit early in Maine, we were quite pleased that we'd made plans to spend 10 days on the island of Saint Martin/Sint Maarten in the Caribbean. The small (37 square miles, or 87 square kilometers) island has two names because it's two countries - the southern part (Sint Maarten) is Dutch and the northern part (Saint Martin) is French. Fortunately for us most people speak English - and we do know a bit of French. We'd enjoyed our stay there back in 2000, and decided it was time to return.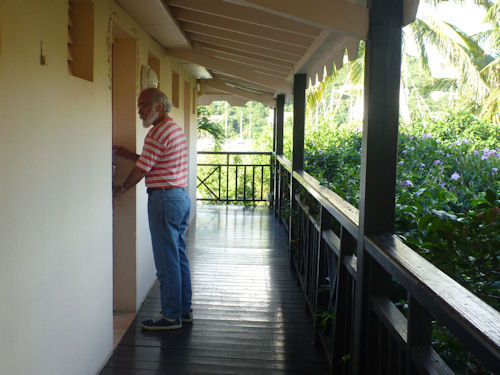 We stayed at Captain Oliver's Resort, as we'd done before - and the resort is also a bit unusual because it's half in France and half in the Netherlands - so every day we traipsed from our bedroom in France down to have breakfast in the Netherlands. As you can see from their website, the hotel part of the resort is fairly modest (and hotel is not really a name I'd give to the lovely little rooms tucked into the hillside - I think of hotels as big blocks of rooms) - but they also have a lovely restaurant, and a large marina. The picture to the right is Charlie heading into our room.
By the way, with a bit of luck, all the pictures can be clicked larger.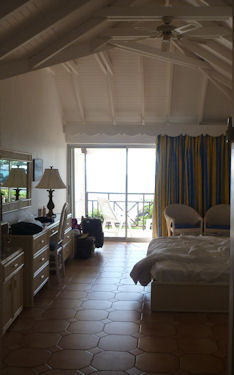 The room was fairly modest (though there is a nice big "bath" room with a lovely tiled shower and two vanities, a tiny room for the toilet, and a mini-kitchen, with small refrigerator and wine glasses - all the essentials!).
But take a look at the view of Oyster Pond (really a lagoon, but that's its name) - Maine doesn't look much like this in winter: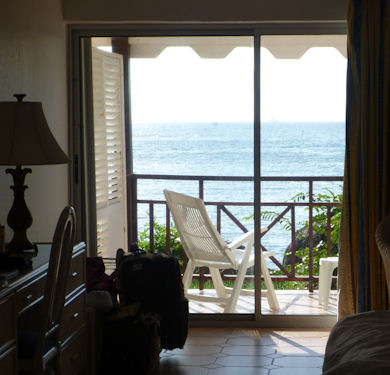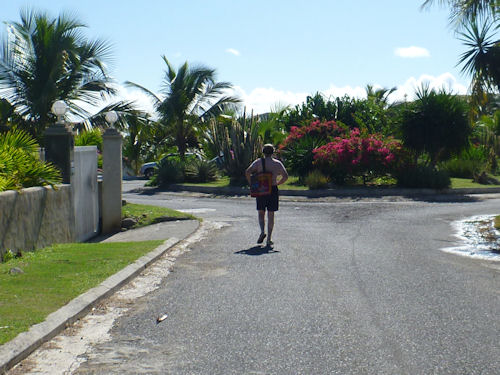 And here's Charlie strolling down to the local supermarket, which (being on the French side) has lovely sandwiches on long, skinny loaves of French bread - and wine - and beer - and Ting, which is a carbonated grapefruit juice drink we both love and haven't yet found in Maine, for some reason....
I'm not quite sure how this layout is going to work on different monitors, but with luck there are two small pictures here (which click very big), one showing Charlie at our table in one of the little bars, enjoying the sunset, and the other shows the restaurant from one of the docks at the marina, as well as part of one of the many boats there, and a bit of the much larger resort on the other side of the inlet.
One thing that Captain Oliver's does not have is a beach. There's a nice pool, and there is a sandy area with beach chairs looking out into the water, but the nearest salt water swimming is on the other side of the inlet - and while they do provide a shuttle if you want to go there, we had a rental car, and prefer the beach at Galion Bay (also spelled Galleon). There is a quiet beach bar where we had lunch, and you can rent lounge chairs and a beach umbrella at that end - or you can wander to a different area and do your own thing. The beach is recommended for children because the water is very calm - and I must admit I prefer the calmer water myself, especially as you can watch the waves crash over the breakwater without worrying about being tumbled by them.
Here we have a view of the beach from the parking area (and I think this is one of the few beaches I've ever seen where you can comfortably walk barefoot back to your car - no hot pavement, no sharp rocks, no broken glass - just soft, surprisingly cool sand), then a view of the "commercial" part from the less populated area; the clouds are the reason we returned the following day - there was more sun than rain most of the time - but once in a while the rain lasted more than 20 minutes - and our first day at the beach was one of those days. Next is a picture of Charlie in the water, and a couple of us having lunch. And the last picture is of Charlie saying "hello" to a visitor who stopped by our table; we were happy to learn that several of the staff members at the restaurant have adopted stray cats, and that they were working on getting this little cat who had showed up there socialized enough to expedite her adoption.
Last time we visited St. Martin, we noticed that there were a number of places where one could ride a horse along the beach. That does sound like a marvelous thing to do, so this time, we had it at the top of our list. And we were not disappointed. We contacted the Bayside Riding Club near Galion Bay, and signed up for a 90-minute ride, including a chance to go swimming on horseback! First was a ride along various paths in what I think is at least partly a nature preserve, and then along a deserted stretch of beach - and then we came to the area where the horses can swim. We don't have any pictures from the ride - we were too busy enjoying it - and holding on! (To be fair, Charlie does know how to ride - but I'm definitely a novice.)
The first of the small (but clickable) pictures on the right shows our guide unsaddling the horses while we took off the shorts and tshirts we'd worn over out bathing suits - and our riding helmets. And then we're off - into the ocean!

I must confess that I didn't actually dare guide "Wizard" into deep enough water that we could swim. I'm not a strong rider or swimmer, and was a bit afraid I'd manage to tumble off and need to be rescued - but as you can see from the big smiles in the last group of pictures - we really enjoyed doing something so different!

And I do feel compelled to note that I do have some courage - I posted these pictures, even though they made it very clear even to me that the diet I keep talking about needs to start now!

The guide, who was maybe in his late 30s or early 40s, did express amazement that people "our age" would do something so adventurous - which did make me feel a bit pleased that we are indeed still willing to try new things - even if we are in our 60s!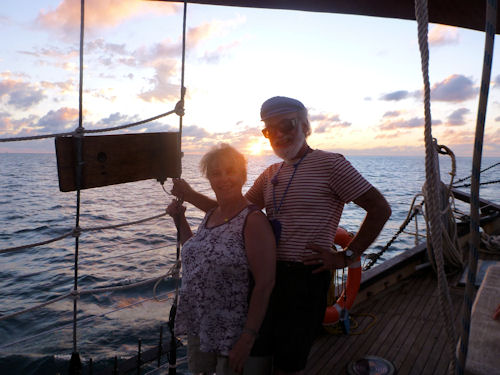 The other new and different thing we did was go on a sunset cruise on the Lord Sheffield, a 72-foot brigantine (square-rigged sailing ship). Again, I have quite a few pictures - partly because it's nearly impossible to take a picture of a sailing ship while you're sailing on it, and partly because they each had something of interest - and partly because the sunset was so beautiful. I've been on smaller boats, and on catamarans - but this is the first time I've been on a ship this size operating under sail (we motored out from the harbor, sailed for a couple of hours, then motored quickly back once it was dark). It was wonderful!
The first of the small pictures below is as we were setting out. I was amazed that we were able to get such nice sunset shots - we had bought small waterproof cameras to take on vacation, expecting them to be fairly indestructible (though we ended up not taking them in the water as it was a bit rough for good snorkeling while we were there) - but not expecting them to be this good in challenging lighting conditions. In case anyone wants to know - I heartily recommend the Panasonic Lumix DMC-TS3 as a great camera to take anywhere that it might get splashed or dropped - and it's light enough that I can toss it in my purse even if I don't plan to be near the water. I've no clue what the boat in the large picture below was - but loved the way it looked on the water. After a wonderful dinner (cleverly disguised as a series of marvelous hors d'oeuvres), Charlie sang a couple of traditional or traditionally-themed nautical songs, cheered on by the other passengers and crew. And the final little picture shows how windy it was on the way back - and how great Charlie looks after several hours at sea!
| | |
| --- | --- |
| | |
I would be remiss if I didn't report on the local wildlife - after all, I am active in several wildlife forums! I think the most exciting thing for me was seeing several iguanas. I've seen little lizards in the tropics before - and St. Martin has the usual variety of those - but seeing 3-4+ foot long lizards wandering around made me think more of dinosaurs more than of cute little things. We saw three iguanas - all of which seemed to be adapting to populated areas. The first was on a dock near the "pizza place" next to our hotel (I used the quotes because the delicious offerings weren't exactly what we get in Maine for pizzas - mine had smoked salmon and creme fraiche, which is sort of like sour cream - but sweeter). The second was in Philipsburg, the capital of Dutch Sint Maarten, on a catamaran moored beside the lovely (and busy) new boardwalk that separates the little shops, restaurants, beach bars and hotels from the beach. And the third we spied as we ate lunch at one of the many beach bars along Orient Beach - it marched through the maze of outdoor tables, with its eye on a tree on the ocean side (in spite of their fierce appearance, they are herbivores). We didn't get a good picture of that one, though Charlie got an excellent shot of its tail. And can you find the head in the fourth picture?
Here's sort of what he/she looked like strolling confidently among the tables - and another picture showing how well they hide.
And last, but not least, are the birds. We saw a number of pelicans diving into the water from our balcony - but our little cameras don't have powerful zoom lenses, so we mostly got pictures of black dots. We did however get a few nice pictures of frigatebirds, which have a wingspan of up to 7 feet. We were up in a little lookout tower when we got these pictures. I'm fairly sure the last picture is of one of them diving - but don't know exactly which part is which.
As we were getting ready to leave, while we were in the reception area (which has a roof and is enclosed on the ends, but open on the front facing the parking area and the back where you head off to your room), Charlie noticed a couple of little birds spending a lot of time flying around one of the two light fixtures outside the main entrance from the parking area. He couldn't get a picture of the birds, but took a picture of the light fixture (left).

Then as we waited for the taxi to take us to the airport, he wandered over for a closer look - and discovered that they had built a nest in the ornamental light! It was open at the bottom, and they were flying in and out. We couldn't see any sign of chicks, and with that much coming and going it seemed to me unlikely that they were incubating eggs, so perhaps they were fixing up the nest for the next nesting season.

It did make an interesting final note on wildlife adapting to change - and on that note, we said farewell to St Martin ... and returned to winter.
---
Addendum -
As I was getting ready to post this, Charlie found an old map of the island he'd bought, which does show the two sides nicely.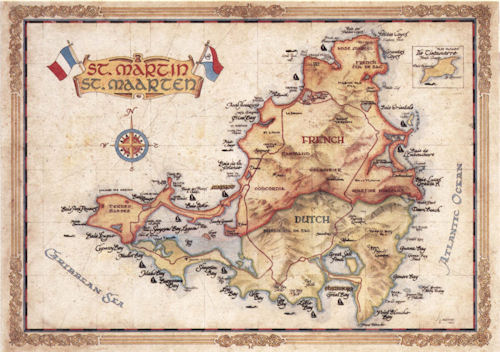 If you click on it to make it full-size, you can see some of the place names, and it gives you a nice sense of the terrain. And after looking at it a bit, I'm also including a newer map from Wikimedia Commons, licensed under the Creative Commons Attribution-Share Alike 3.0 Unported license (and also clickable for better viewing).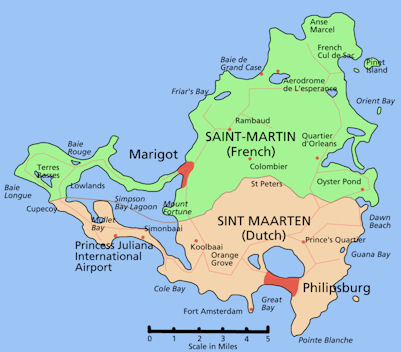 Captain Oliver's is on the right side, at the end of the inlet between Oyster Pond and Dawn Beach; most of it is on the French side, but the restaurant is on the Dutch side; we could watch boats come through the narrow channel from our balcony.
Galion Beach is at the top end of the skinny bit of land above Oyster Pond and below Orient Bay; the triangular body of water behind it is a salt pond (salt used to be a major product here).
The Lord Sheffield sails from a dock at the edge of Philipsburg - and we had a great dinner at a little restaurant in the Baie Rouge area - it is nice when the whole island is relatively compact!