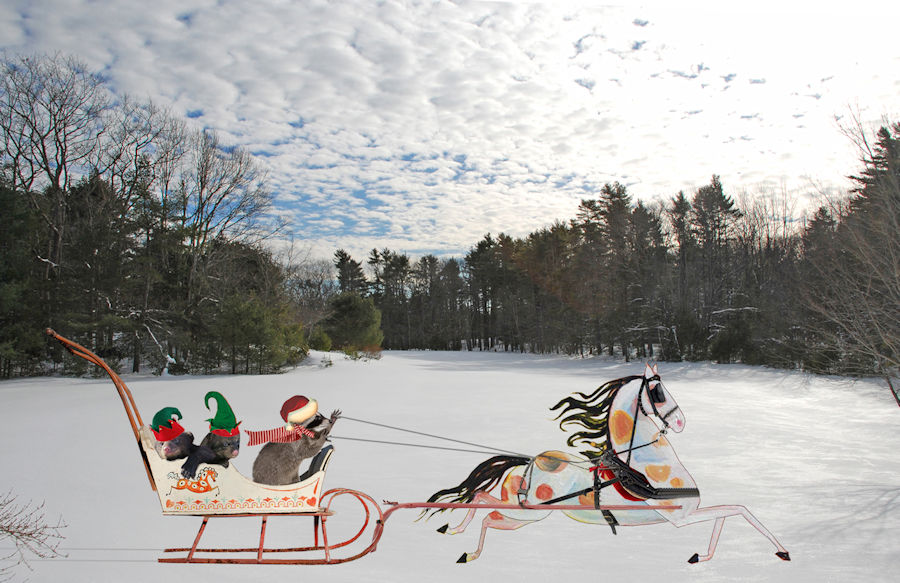 Peace
and Joy
to You
from Judy Barrows & Charlie Ipcar
Our card this year is a combination of old and new, featuring the painted push sleigh Charlie and his older brother rode in many years ago – and two bear cubs that we met last winter who were about 7 weeks old and weighed less than either of our small cats – you can read more about our visit to the bear den with lots of pictures here – http://www.judybmaine.com/wildlife/bearcubs_20160301/bearcubs_2016.htm. The raccoon is more generic – but Charlie's family had a pet one when he was growing up, and Judy's dad bought stale bread for the family of raccoons who lived under the mill where he was a night watchman in his later years – so we both have connections to raccoons as well. The horse is from the fertile imagination of Charlie's Mom (she just turned 99, and is going strong!), and the background is from their farm in Georgetown, Maine.
We both attended the Mystic Sea Music Festival this year and also spent a week in Chicago – lots of singing and time with music friends. And we went out to Squirrel Island (near Boothbay Harbor, Maine) where Charlie gave a presentation on the steamboats that used to be a major means of transportation for Maine's coastal and island communities – and sang his song about one of the routes! But the musical highlight of the year was a concert that Charlie organized of Dahlov Ipcar's Favorite Folk Songs. Dahlov did a mural design in 1940 featuring folk songs and Charlie and some of his musician friends led all the songs – with his mom Dahlov in the audience. It was a magical evening!
Beyond that, Charlie has been busy helping to plan a series of shows of Dahlov's art, including one featuring her childhood art, much of which had not been seen since a show at the Museum of Modern Art in 1939 until Charlie unpacked the crates this summer. Judy has been busy at her job doing tech support for the Clerk of the House at the Maine Legislature, but with a twist – she'll be retiring next summer, so her focus is now on training others, which is quite a change from just getting things done! Our cats Tejitu and Tilahun are now 19-1/2 – and we think they will be happy to have another slave at home!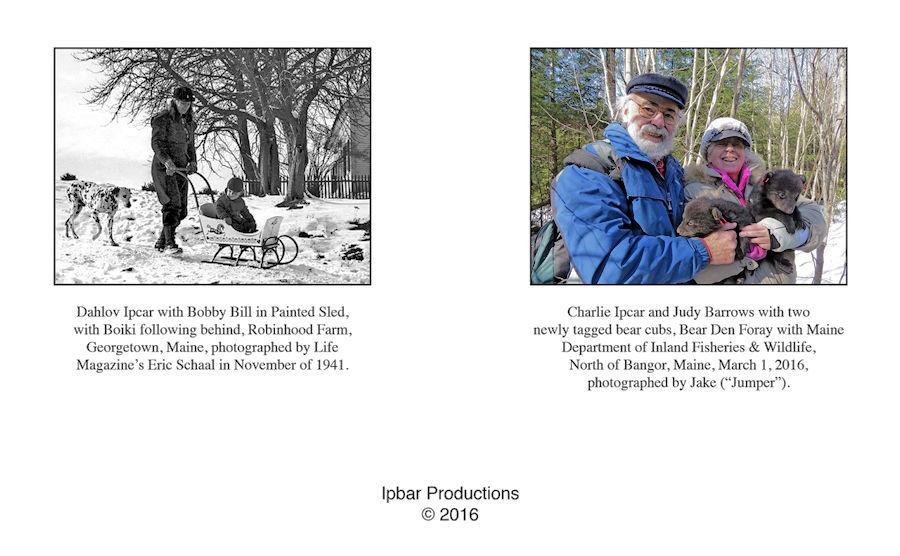 (images click bigger)