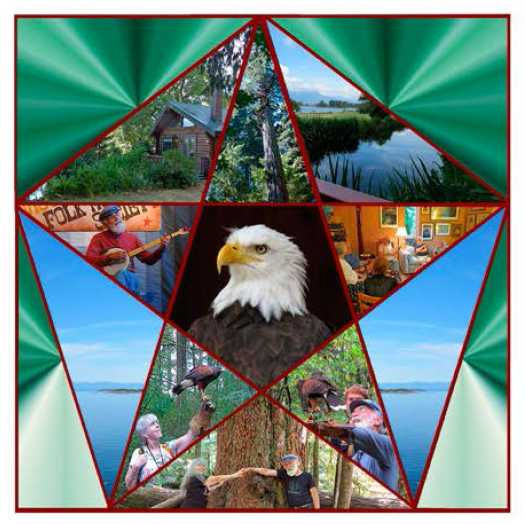 Season's Greetings
from Judy Barrows & Charlie Ipcar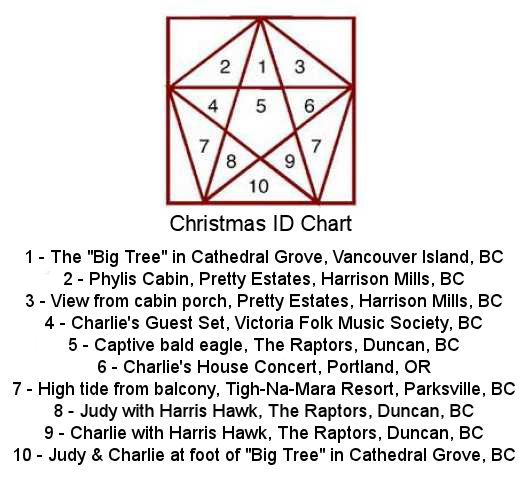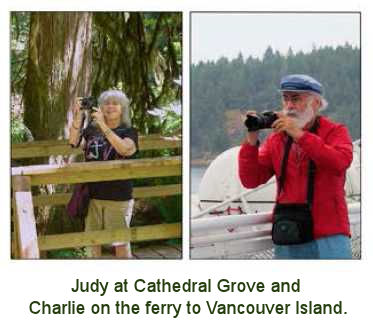 Our major vacation journey this year was to the Pacific Northwest, where we spent time with some old friends, and met some new friends we'd only known online – and had a chance to visit some great places and do some really wonderful things!  We arrived in Seattle in the evening (already late in Maine, where our brains still were), picked up our rental car, and headed to Vancouver where a wonderful friend fed us dinner at midnight.  The next morning, we visited an eagle nest (one of Judy's obsessions) then headed off to a gathering of eagle people in Harrison Mills – where we had happily reserved a little cabin for the night, so we could enjoy the peaceful view and the little bottle of wine that came with the cabin.

After a couple more days of eagles (Judy here – almost heaven!), we took the ferry to Vancouver Island – a lovely trip. We explored further up the island this time, enjoying the scenery and visiting a couple of raptor rescue centers (and got to have a hawk land on our gloves – WOW!) and playing music with old and new friends in several locations (also WOW!) – and we always love Victoria!  Then we took the ferry to Port Angeles, Washington, (way too early in the morning, but at least they had good coffee!) and drove down to Portland, Oregon, to visit more old and new friends and play more music – it really is neat when we get to meet people we've only really known on the internet – and it's even better than we'd hoped!

After that, we headed to Seattle where Judy had a business meeting and Charlie got to prowl around – and we did find a bit of time to visit with more friends – and we both love the Pikes Place Public Market!
Ipbar Productions, © 2015